Beyonce
BBe took over the Superdome tonight and literally shut the lights off with an electrifying performance.  Find out what other celebrities are tweeting about her show....
Shortly after Beyonce gave a sizzling halftime performance at Super Bowl XLVII, the lights went out at the Superdome.  Coincidence?  We don't think so.  And neither did a ton of celebs who Tweeted that Bey shut it down! 
Only Keyshia Cole had something negative to say...but it was directed at Michelle Williams, not Bey.  She claims that the performance had her in a trance until Michelle started to sing and messed it up. SMH.
Here's what other celebs (including Bey's husband Jay-Z had to say about the show):
I think I was frightened to blink for a sec. Then Michell sung and woke my ass up from my daze! She always fuckN the groove up/
But hey! I love y'all too! And y'all girl is WACK and always will be!
-Keyshia Cole
Lights out!!! Any questions??
-Jay-Z
Loved Beyonce's outfit. I want one! Beyonce's outfit for Wimbledon. But in white? Hummmmmmm
-Serena Williiams
Im sorry but @KELLYROWLAND yaaaaaasssssss heffa!!!! #shedidthat
-Tamar Braxton
I might be the only one NOT watching the Super Bowl!! I'm just waiting on Half time...BEYONCE!!! OMG!!! I'm hyped!!! #Beyonce #DestinysChild
-Coko
Halftime show slayed!!!!! Yessss @Beyonce!! ICONIC!! And I'm so proud of my BFF @KELLYROWLAND and @RealMichelleW! Wow
-LaLa Anthony
Beyonce Bowl/No. One. Better/By the way.... Black girls ROCK, and I couldn't be more proud to be one tonight!!!!
-Solange
OMG Beyonce killed it!!! And when Destiny's Child came out...that made my life! #Bootylicious
-Kim Kardashian
That's the TRUTH"@AngieBeyince: Proud night for talented gorgeous young black women! DC3, Alicia Keys, & Jennifer Hudson.
-Sylvia Rhone
-Kandi Burruss
Whoooo I'm so tired. That performance took a lot out of me! LMBO
who gon stop her!?
DESTINYS GROWN ASS MAN
-Terry Crews
Beyonce literally shut it down!!! Fierce.
#
blackout
-Tamron Hall
-Nick Cannon
Bey-once .... Enough said
-Laura Govan
For all those who know me, knows i just had an orgasmic moment! #BEYONCE
-Selita Ebanks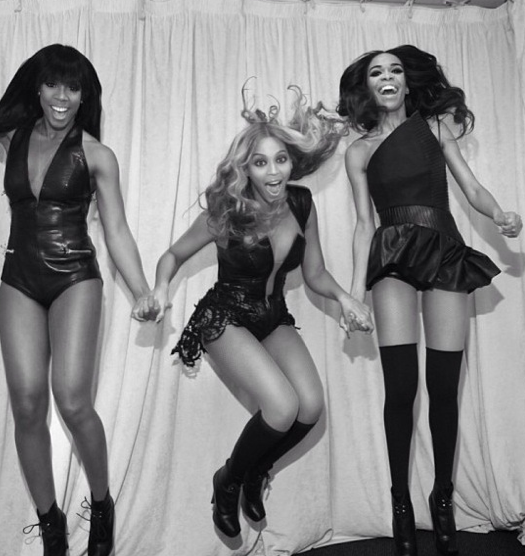 is slaying and taking names this year.  Literally.  She hasn't publicly called herself "Mrs. Carter" since getting married to Shawn "Jay-Z" Carter almost 5 years ago.  But all that has changed now that she's taking her technical last name and running with it.  Mrs. BKC just announced "The Mrs. Carter World Tour".
Theybf.com